On a Kilimanjaro climb you go from the humidity of a rainforest into a world of snow and glaciers in a matter of days! So you need a variety of gear and clothing to complete this journey safely.
Kilimanjaro packing list – equipment
The main items of gear to pack for a Kilimanjaro adventure are:
80- or 100-litre duffel bag for your overnight items (carried by a porter)
30- or 40-litre day backpack for your daytime items (carried by you)
Winter sleeping bag (must fit into your duffel bag)*
Sleeping mat (also must fit into your duffel bag)
Water bottle and hydration pack
Trekking poles (optional, but advisable)
Headlamp for summit night
* At Amazing Kilimanjaro we loan our clients a winter sleeping bag at no extra charge!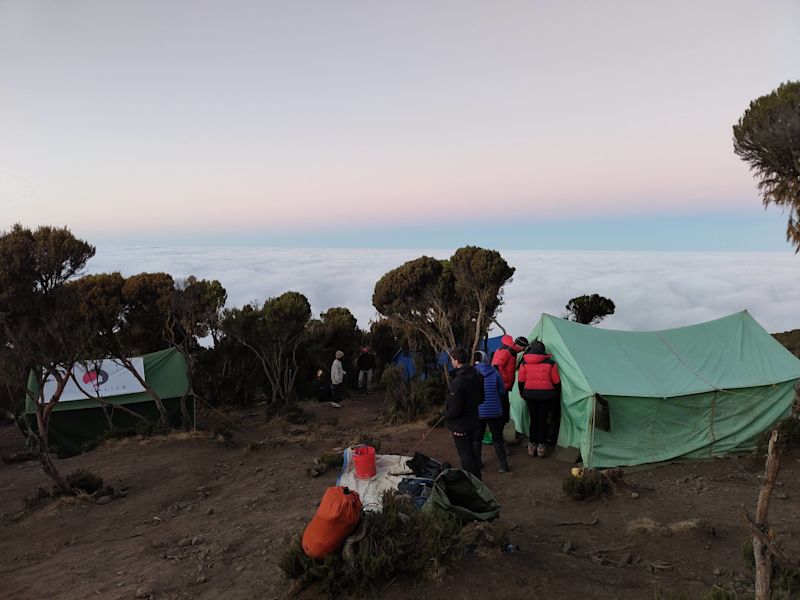 Our client took this evening pic from Mweka Camp
Kilimanjaro packing list – clothing
As to clothing, we recommend packing:
Gaiters (optional, but advisable when there's snow on the summit)
Waterproof or water-resistant hiking boots that are worn in
Hiking socks, including winter hiking socks
Winter gloves and inner gloves
Sunhat and warm beanie or balaclava
Windproof, hooded winter jacket (like a down jacket)
Rain gear like a poncho and waterproof pullover trousers
Fleece jacket or similar
Trekking trousers and sweat-wicking shirts
A pair of shorts (optional, for the rainforest section)
Thermal leggings and long-sleeved tops
Underwear, including thermal underwear
Everyone covers up as much as they can near the summit
Kilimanjaro packing list – toiletries and meds
Some of the important little items to bring along are:
Biodegradable wet wipes (there are no showers on the mountain!)
Sunscreen and SPF lip balm (the UV rays are intense at high altitude)
Moisturising cream and lip balm (your skin and lips take a beating near the summit)
Altitude meds like Diamox (you'll need to visit your GP to obtain these)