All of the seven different Kilimanjaro routes lead to the summit! They all then use one of two possible descent routes back to the bottom of the mountain.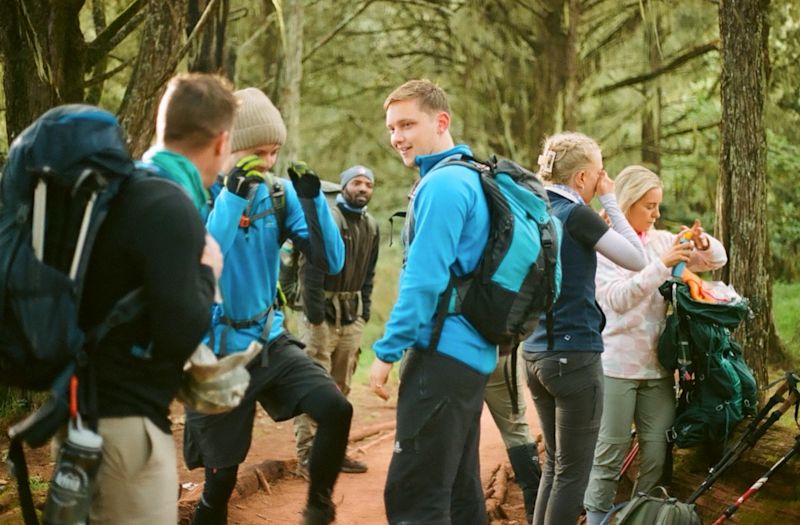 A great group snap by our client Jillian
Having said that, trying to figure out which route to take should not be an afterthought, but rather a core component of your Kilimanjaro preparation.
Choosing the right route can, in fact, make or break your climb. This is because each route has its own pros and cons. It's important that you weigh these carefully before making your decision.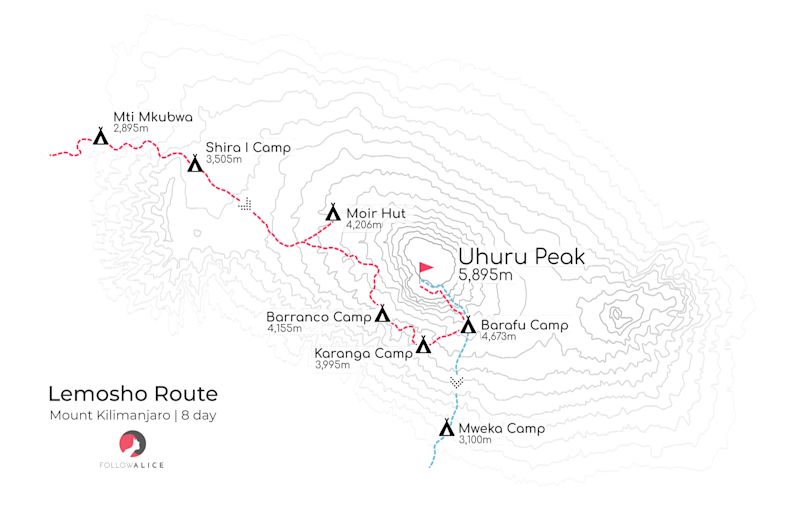 The eight-day Lemosho route is one of our favourite Kilimanjaro routes
Here's a quick introduction to the seven routes, which may help you to whittle down your options so that you only need to research some of them in more detail:
| Route | Distance | Duration | Notes |
| --- | --- | --- | --- |
| Lemosho | 70 km / 44 mi | 7 or 8 days | Beautiful and varied terrain. Good acclimatisation. Busy route. |
| Machame | 62 km / 39 mi | 6 or 7 days | Beautiful and varied terrain. Busiest route. |
| Marangu | 72 km / 45 mi | 5 or 6 days | Hut accommodation. Scenery not so varied. Not very steep. |
| Rongai | 73 km / 45 mi | 6 or 7 days | Quiet route. Takes a long time to reach the trailhead. You look north to Kenya. |
| Shira | 56 km / 35 mi | 6 or 7 days | Very high start. Poor acclimatisation. You miss the pretty forest zone. |
| Northern Circuit | 98 km / 61 mi | 9 or 10 days | Very pretty and varied route. Quiet route. Highest summit success rate. |
| Umbwe | 53 km / 33 mi | 6 or 7 days | Very steep and tough. Pretty scenery. Poor acclimatisation. Low summit success rate. |
Gorgeous landscape on the Machame route
Guiding questions
At the end of the day, choosing a route is a personal choice, so really there is no 'best' route overall. Rather, you could say there's a best route for you and what you want to achieve.
There are five essential questions to answer to help you choose your Kilimanjaro route:
How diverse is the route's vegetation, terrain and scenery?
How many days are spent on the mountain?
What is the acclimatisation profile and success rate of the route?
How much does the climb cost?
How crowded does the route get?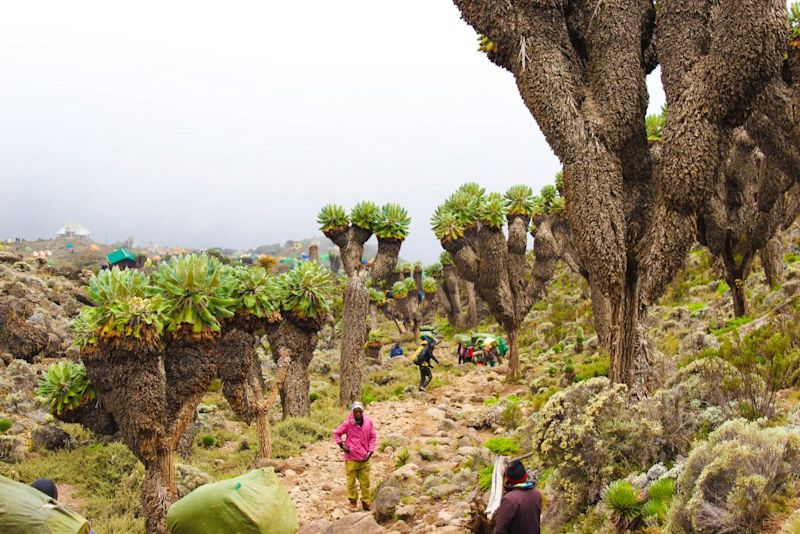 Did we mention the scenery on Kilimanjaro?? 😉
Follow Amazing Kilimanjaro's opinion
All that said, in our opinion the best Kilimanjaro routes are:
8-day Lemosho route

 – it's very beautiful and has a high summit success rate

9-day Northern Circuit

 – it's a beautiful and quiet route with an excellent summit success rate

7-day Machame route 

– it's a beautiful and popular route