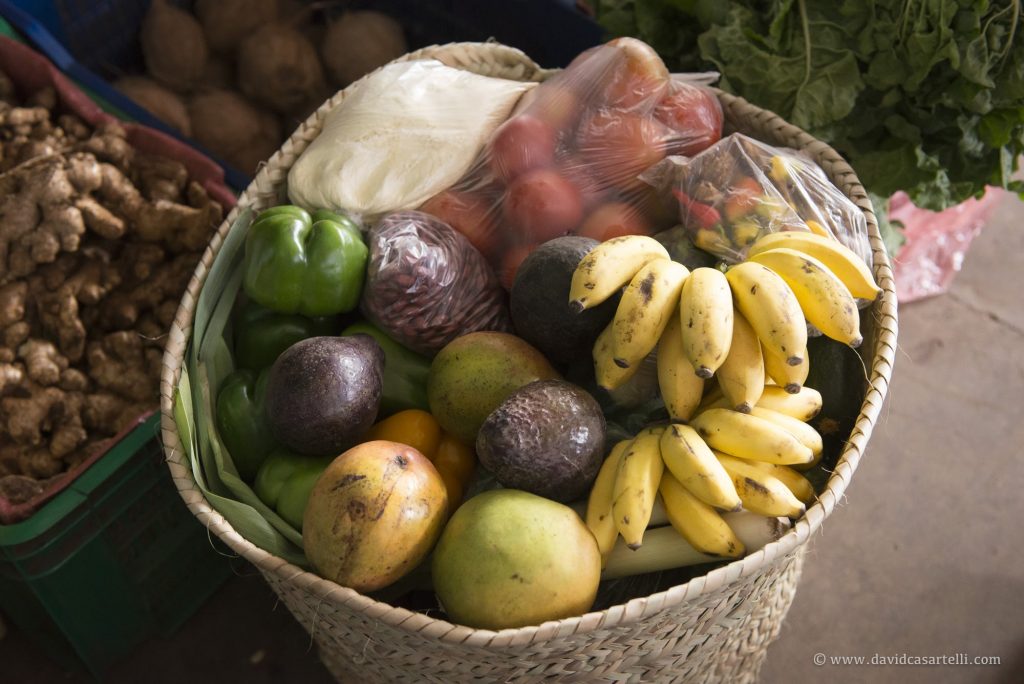 Tanzanian cuisine has been influenced by a number of cultures and flavors. Indian, Middle Eastern, and local African ingredients and cooking techniques have been combined over the centuries to create the basis of Tanzanian food culture.
The staple that is considered the country's national dish is ugali, a stiff porridge made of maize meal cooked with water until it becomes a thick paste. It is served with a sauce containing either meat, fish, beans, or cooked vegetables. Ugali is best eaten with the fingers by making a small ball and dipping it into the sauce. With a group it is typically eaten out of a large bowl that is shared by everyone at the table. While ugali is loved by nearly every Tanzanian, it is common that Westerners are less fond of it! Rice is an increasingly common staple food. And Indian flatbreads, especially chapati, are also popular. One of these three options make the basis of nearly every meal.
Matunda (fruits) and mboga (vegetables), such as ndizi (bananas), papai (papaya), mbilingani (eggplant), nyanya (tomato), maharagwe (beans), muhogo (cassava), mchicha (spinach) and other greens, and muhindi (maize) are omnipresent side dishes, many of which are grown in backyard gardens like those found at Mbahe Farm Cottages.
Meat, because of its value, is not consumed at most meals. Cattle are normally slaughtered only for special occasions, such as a wedding or the birth of a child. Cattle, sheep, and goats are raised primarily for their milk and the value they contribute to social status, while chickens are raised for eggs. When meat is consumed, however, nyama choma (grilled meat) and ndayu (roasted, young goat) are most popular.
Dishes specific to the Kilimanjaro area include ndizi nyama (banana and beef stew) and makande (maize and bean stew).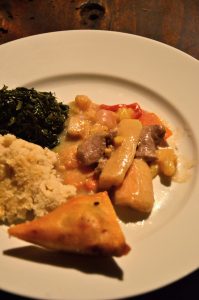 Peanuts, popcorn, sweet potatoes and dried fruit are frequently consumed as snacks – for example after a long day in the safari car or hiking on the mountain.
Popular Tanzanian drinks are chai (tea), kahawa (coffee), and fresh fruit juice. At Mbahe Farm Cottages, your host can show you the whole process of coffee-making from picking to roasting to brewing. Tanzanians brew their own alcoholic beverages from local produce like bananas, corn, and honey, which are served at local bars and pubs. Bottled beer and soda are also readily available in Tanzania and consumed by those who can afford them and at special occasions.

THE SENE CHEFS AND THEIR RECIPES
The great experience in Tanzania on a Kilimanjaro climb, camping safari, biking, or running adventure with SENE would not be so memorable without the delicious meals made every day by our own SENE camp chefs. Hopefully while with us you were able to taste the output of one or more of Kiplet, Katunzi, Leonard, Robson, or Alex, each of whom has worked for SENE for several years and have perfected their cooking ability under the most austere conditions of a mountain or safari tent kitchen.
Using a variety of fresh fruits and vegetables that come mostly from the Mbahe Farm organic garden, and fresh meat and fish from the local market, the SENE chefs prepare the special dishes for which only they (and Simon, the chief menu-maker) have the secret.
Regardless of your endeavor, their food provides the energy and vitamins and nutrients needed to sustain you, and their taste makes you want to eat more! Hopefully, the exquisite flavors of a particularly satisfying meal has stayed in your memory long after your return home.
Now you can experience a bit of Tanzania again as Simon has agreed to share two of the SENE chefs' camp soup recipes. We hope they will bring back fond memories of your time in Tanzania!
CARROT SOUP
Serves 3
4-6 carrots, cut into thick slices
1 medium onion, quartered
2 cloves garlic, chopped
4 cups water or vegetable stock
Hot pepper sauce, optional
Put the carrots, onion, garlic and water (stock) into a pan. Cover and simmer for 15 minutes. Add salt and pepper to taste and simmer for 5 more minutes. Cool slightly and blend or mash the soup until smooth. Return to the pan and heat. Add the hot pepper sauce to taste.
FARM SOUP
Serves 4-6
6 cups vegetable stock
1 large carrot, chopped
2 tomatoes, chopped
2 medium onions, chopped
6 cloves garlic, minced
1 cup precooked beans of any kind (we use leftover black beans)
1 hot pepper, chopped (optional)
2 sweet potatoes, cut into 1/4 " cubes
1 tablespoon olive oil
Any seasonal vegetable, optional
Lightly fry the onion, garlic and hot pepper in the olive oil, about 1 minute. Add the vegetable stock, carrot, tomato, sweet potato, beans, and any other vegetables. Black beans work well. Bring to a boil and then simmer until the carrot and sweet potatoes are tender. Add salt and pepper to taste. Remove from heat and let cool a little before serving.